We already know what the stop in the tunnel of the Krakow Fast Tram to Mistrzejowice will look like. The main theme of the selected design are the materials characteristic of Krakow's walls – stone and brick. A large skylight will provide adequate lighting of the interior of the underground station at Polsadu roundabout.
Architectural design of the Polsadu roundabout stop prepared by the Prota Polska Sp. z o.o. company on behalf of Gülermak has been positively received by the Chief Architect of the City of Kraków. It features two underground floors: level -2 with tram platforms and level -1 with circulation paths for pedestrians leading to the ground level through four staircases. Each exit pavilion will be roofed and have traditional stairs, escalators and elevators to serve bicycles or prams. The stop is fully accessible to persons with reduced mobility. Underground – on top of areas for passengers – there will be premises for staff of the tram stop and tunnel services as well as technical rooms for safe and proper operations of the facility.
No more boring pedestrian tunnels
The designers knew the drawback of tunnels and other linear structures: the monotony of long corridors. To prevent it, a cladding system was designed on the walls underground. The pattern is repeatable yet the effect is different depending on the viewing angle. Even though made of modern materials, the cladding will refer to the raw materials so common across Kraków's historic streets.
"The starting point for us when designing the stop at Polsadu roundabout were the materials that dominate the architecture of Kraków: stone and brick" – says Małgorzata Marcinkowska, an architect with Prota Polska Sp. z o.o. "Walls made of these materials are arranged in a specific way and display certain rhythm, especially the details of the brick threads. Our idea was to translate this pattern into large-format geometric forms of interior cladding and to apply an analogous color scheme" – explains the designer.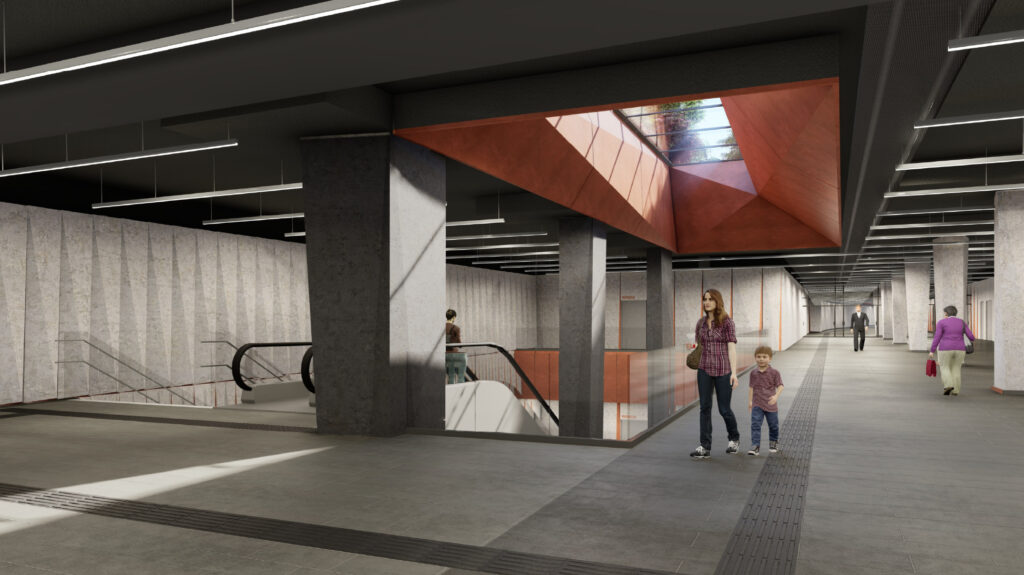 Exit pavilions featuring contrasting items
Brick walls, overgrown with vines, are also typical landscape in Prądnik Czerwony – a district in Kraków rich in monastery buildings. This is the association visible in exit pavilions which were designed in a contrastive manner. "One of the walls is a reference to a massive wall covered with vegetation, the rest of the pavilion is a light, glazed steel structure" – says Małgorzata Marcinkowska. The species of plants that make up the 'green wall' will be carefully selected so that they are easy to maintain and aesthetic throughout the year.