Once the plots of land for the construction of the new connection to Mistrzejowice have been handed over, cleanup work will begin, preparing the site for the start of the main work. In the first stage, residents will face short-term and local narrowing of traffic lanes, sidewalks or bicycle paths along the entire project, as well as restrictions at the Polsad Roundabout.
It is impossible to start work without proper preparation of the construction site – removal of conflicting objects, organization of construction facilities or securing the site. From the point of view of traffic users at the stage of cleanup work, activities carried out on the outside of the road lane and in the roadway dividing strip will be important. The contractor will carry out tree cutting and demolition of objects, as well as the necessary network rewiring. They will proceed successively starting from the intersection of Mogilska, Lema, Meissnera and Jana Pawła II streets towards the terminus in Mistrzejowice, which involves local narrowing of the road lane or partial exclusions of pedestrian and bicycle paths from use. The work site will be properly marked and secured. Bus communication will function without changes. If necessary, existing bus stops will be temporarily out of service, and substitute stops will be designated in their vicinity.
In addition, the reconstruction of the stormwater drainage system will be carried out already during the initial construction period, with the aim of changing the drainage of the flyover over the Polsadu Roundabout. The traffic organization, which will be divided into several sub-stages, is shown in the diagrams below.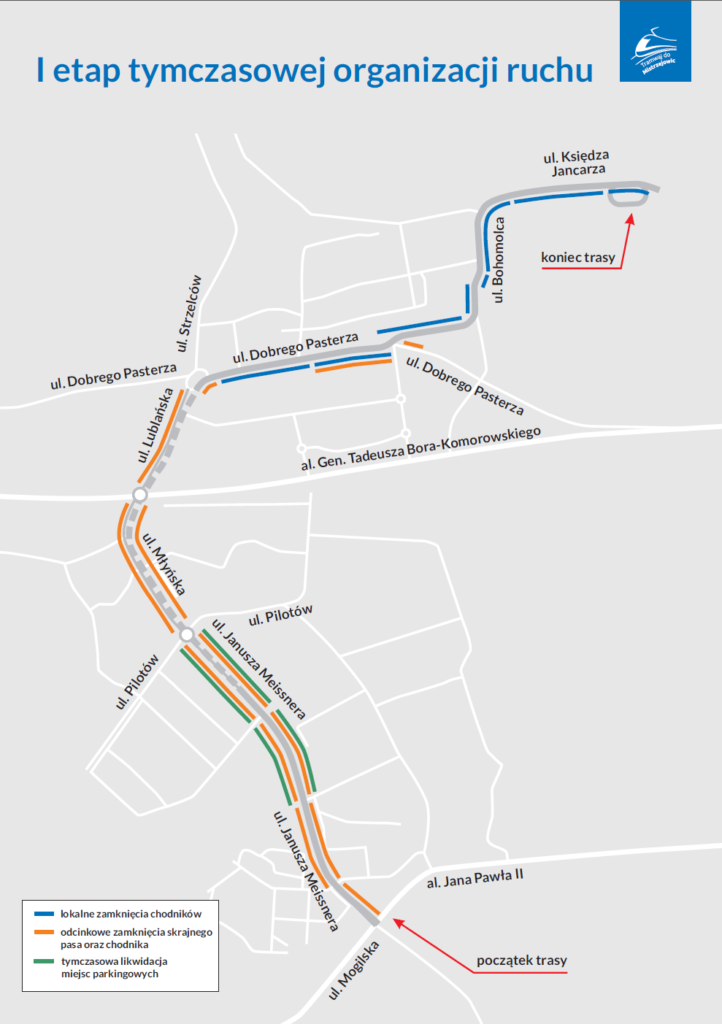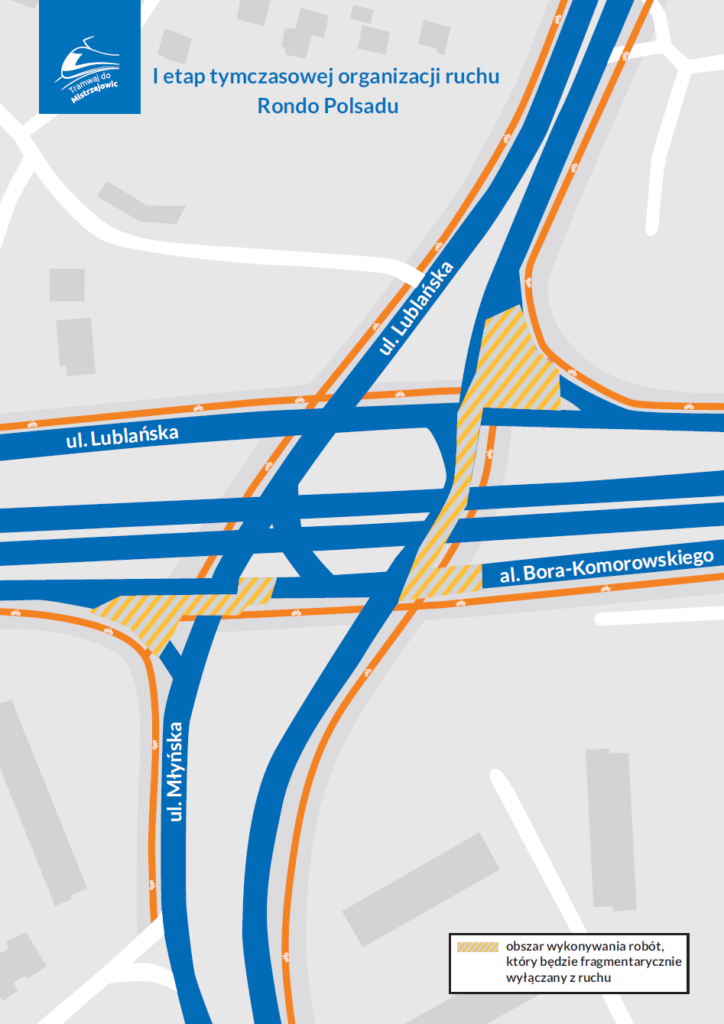 General rules of traffic organization during the construction of the Tramway to Mistrzejowice
a minimum of 10 major phases of temporary traffic organization are planned, but each will be divided into sub-stages involving relatively minor modifications
Almost throughout the construction period, traffic obstructions will occur in the area of the tunnel section, i.e. at the Polsadu Roundabout, on Młyńska and Lublańska streets; in other sections, restrictions will occur temporarily at various stages of construction
separate traffic organization projects may include intersections to ensure their maximum capacity for ongoing work
During the entire period scheduled for the execution of the works, the traffic of bus lines running along the construction site and vehicular traffic on the flyover over the Polsadu Roundabout (Bora-Komorowskiego Avenue) will be maintained
individual projects of temporary traffic organization will be consulted and agreed each time with various institutions, including the police, the City Traffic Engineer, the road manager or the organizer of public transport
Temporary changes in streetcar service through Mogilska Street and Jana Pawła II Avenue and reaching the Mistrzejowice terminus are planned for 2025