Accessibility of public space for people with disabilities is one of the key challenges facing designers of modern cities. Thanks to the infrastructure that accompanies the "Tram to Mistrzejowice" investment, people with visual disabilities will soon have a new space adapted to their needs.
People with visual impairments experience various dangers as they go about their daily lives in society. In order to get to work, school or the store, they have to overcome many architectural barriers. Not all of them can be removed, but many can be signaled in advance and designed in a way that improves accessibility
In the Tram to Mistrzejowice project, special textured pavement markings were designed at the Młyńskie and Polsadu Roundsbouts underground stops. They allow visually impaired people to use public transportation comfortably and safely. Thanks to four types of textured tiles embedded in the floor, people moving with a cane for the blind are able to distinguish tactilely the texture of the pavement.
– All of the envisioned types of textured pavement markings are important for visually impaired people, as they make it easier for them to navigate urban spaces and increase their safety, says Łukasz Jaworski, architecture coordinator at Gulermak.
What types of textured pavement markings will we use?
A warning lane is a textured panel with nodule-like tabs arranged transversely to the direction of traffic, which signals the approach of a hazard or obstacle. In the case of the Tram to Mistrzejowice project, it is, for example, the edge of a platform, the edge of a staircase or an elevator door,
The guide lane is formed by plates with longitudinal grooves that allow the direction of movement to be read and enable people with visual impairments to orient themselves more easily in space,
The attention field is a square plate with tabs that indicates a change in direction of travel or the intersection of guide lanes,
A waiting area is a textured board also square in shape, but larger, that indicates to a visually impaired person where to wait for an oncoming streetcar. This is the point where the streetcar doors should stop so that the passenger can get inside freely.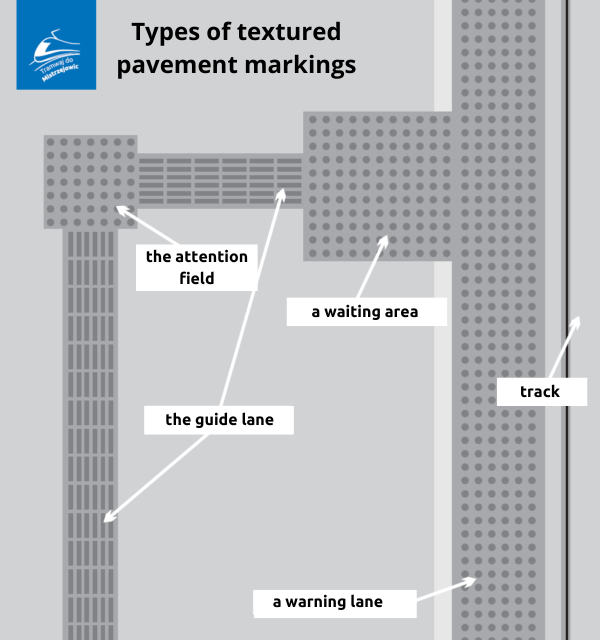 Textured pavement markings are just one of the solutions that help visually impaired people navigate in public spaces – It is also important to ensure the appropriate number of lighting fixtures and its intensity, as well as the use of audible beacons that inform of an oncoming tram or bus, adds Łukasz Jaworski.
Improving the accessibility of public space will increase the number of people using public transportation, which will reduce car traffic and air pollution. It is therefore worth taking steps to adapt public spaces to the needs of visually impaired people in order to create cities that are more friendly to everyone.
Czytaj dalej